NEW UPGRADE 69 HOLES DESIGN
The Bubble Maker has 69 bubble holes to blows out 2000+ of colorful bubbles per minute. The ergonomic grip is rounded and doesn't hurt your hand. When pressing the trigger, the fantastic lights render colorful bubbles, and you can enjoy a colorful scene at night.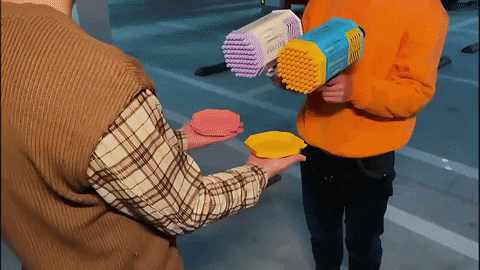 HIGH-QUALITY ANTI-FALL MATERIAL
The bubble gun is made of high-quality ABS material, with rechargeable battery, environmentally friendly, durable, safe to use, no sharp edges, the shell is thickened and anti-fall, so that children can play more at ease, very suitable for children Play and entertainment as well as adults.


SIMPLE ASSEMBLY
Our Bubble Gun requires no assembly. The Rocket Bubble Gun has 69 holes, a powerful cool fan, and cool lights at night. Hundreds of bubbles can be created. Colored bubbles can grab their attention when the bubbles are flying. More joy for you and your family.


THE MOST POPULAR ROCKET BUBBLE GUN
Bubble gun is very popular among parents, children, and their followers. As a must-have tool for dates, birthday parties, stages, weddings, Christmas and more. It's the perfect prop for photos.


HOW TO USE
Please use a special bubble solution, do not use DIY soap, the former will produce a lot of bubbles, because the effect is not the same as the soap; charge for 4 hours; the bubble solution should not stick too much, so as to avoid a small amount of solution sticking to the bubbles. With 69 bubble holes, thousands of colorful bubbles can be ejected in the sky every minute.