The first hand-controlled drone that doesn't require batteries or a remote! 

The UFO Drone requires no remote and can be controlled simply by hand gestures! It uses high-tech sensor technology to detects and avoids obstacles!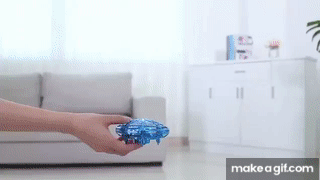 Easy To Use
Extremely easy to use and control, just toss the UFO Drone in the air, and it will start flying on its own!
Safe And Durable
Mini quadcopter drone is made of environmentally friendly non-toxic and sturdy material, if there is a collision, it has bounce it will gently bounce off causing no damage.
Easy To Fly Control With Your Hands
NO Touching Needed: Toss mini-drones Gently, It flies and hovers in the air
immediately. You don't have to spend time learning how to control the drone. It's easy and intuitive to use.
Control By Gestures
Due to advanced LED infrared sensor hover technology. You can control 
directions and altitudes with your hands and gestures. When your hand is close to the UFO it will pick up your hand with its sensors and 
fly in the opposite direction.
 
Auto-Avoid Obstacles
Due to 2 high-precision sensors on the aircraft, the UFO will pick up any object in its way and automatically fly away without you needing to stop it or use a remote.