Regular price
$86.95
Sale price
$49.99
Unit price
per
Sale
Sold out
Ever wanted to quickly and efficiently enjoy your favorite smoothie or shake whilst on the go?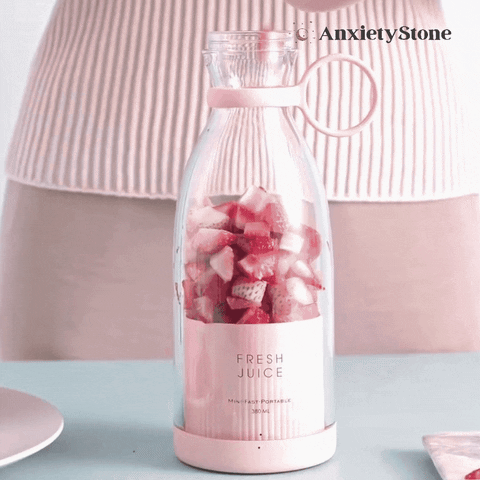 Well, now you can do just that with the innovative FreshJuice™ Portable Electric Blender! 
Don't miss out on a good smoothie just because it hasn't been convenient! With FreshJuice, you'll never skip your daily smoothie or protein shake again.
In this fast-paced modern world, finding the time to create delicious smoothies, healthy shakes or a tasty salad dressing on the go is tough. The FreshJuice Blender is the portable solution that lets you whip up healthy and nutritious snacks no matter whether you are at the gym, work, or university.
Of course, the blender provides you with countless more options. From creating cocktails on a day trip to the beach to making pancake batter whilst away camping for the weekend, the FreshJuice Blender is the ultimate accessory for anyone regularly on the go.
The lightweight blender is made from durable BPA-free and non-toxic plastic, ensuring your food is not compromised, whilst a long-lasting stainless steel blade ensures powerful slicing with every use. Weighing in at just 488 grams and capable of holding 380ml, the FreshJuice Blender is one of the lightest on the market and is perfect for carrying around in your bag every day.
A Pre- or Post-Workout Solution.
A Continuous Supply of Energy.
A Diet-Friendly Protein Boost. 
A Partner in Fitness Goals.
A Healthy, Satisfying Snack. 
An On-The-Go Option.
Capable of up to 300 rotations per second, the Fresh Juice Portable Blender is not only incredibly fast, but it is very quiet, ensuring you can blend in public without worrying about disturbing those nearby. You also won't need to worry about the blender accidentally switching on either, with it requiring two pushes of the power button to initiate. 
Each blender can be charged via a wireless USB cable and takes just one hour to fully charge, making it very easy to charge whilst on the go. For maximum comfort and safety, a rubber grip on the bottom ensures the blender remains sturdy when in use, whilst a screw lid ensures no ingredients can accidentally spill.
So, if you are looking for the perfect portable blender, FreshJuice™  Portable Electric Blender is the ultimate choice. 
View full details