Regular price
$79.95
Sale price
$38.95
Unit price
per
Sale
Sold out
Blend Anywhere
Imagine the freedom to go anywhere and blend your favorite smoothies, milkshakes, margaritas, or baby food without any of the limitations of a regular blender.
Stay Healthy Be Happy
Eating healthy is crucial for not only your physical health but also your mental health and happiness. By using our Pro Blender 360 you will not only drink delicious smoothies but also be staying healthy. Studies show that by having a healthy diet you will live on average 14 years longer and with our Pro Blender 360 it is easier than ever before.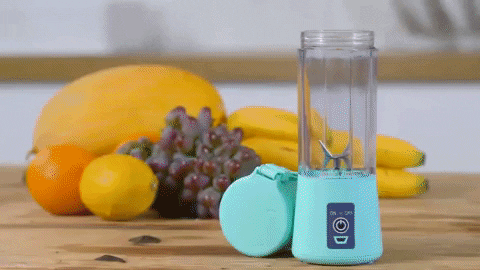 Our 3 Favorite Smoothie Recipes
Blend Anything

 
The Pro Blender 360 makes smoothie-bar-quality beverages, silky-smooth protein shakes, top-shelf mixed drinks, and creamy frozen lattes, plus milkshakes, slushies, baby food, dips, dressings, sauces, and so much more.
Take It With You Anytime Anywhere
Take the Pro Blender 360 with you anywhere you go to enjoy the taste of a  fresh smoothie. The ProBlender 360 is the most portable and versatile blender on the market. 
Never Wash A Blender Again
Say goodbye to the most annoying part of blending. Bulky kitchen blenders feel impossible to clean — especially when you're in a hurry — but the Pro Blender 360 cleans itself. Just add a drop of soap, a bit of water, blend, and you're ready for your next blended creation.
Quiet Enough For A Library
We engineered Pro Blender 360 to deliver incredible power without the jet-engine-like sound produced by clunky kitchen blenders. In fact, the Pro Blender 360 portable blender is so quiet, you can use it during late-night study sessions or in the early-morning hours without waking up your household.

USB Rechargeable
Get up to 15 blends from just one hour of charging with any USB port. The Pro Blender 360 portable blender is equipped with a water-resistant USB-C port that makes it easier than ever to power up.  The Pro Blender 360 comes with a charger so you can start using it as soon as you get it.
30 Day Money Back Guarantee
Nothing else comes close to the quality, power, and innovation of the Pro Blender 360 portable blender. We guarantee you'll love it, or your money back.
Details & Spec's
Volume: 360 ML
4 Stainless Steel Blades
Weight: 460g
Charging: USB
Rotation Rate(RPM): 20,000
Voltage: 220V
View full details