Transformable Fidget Spinner
New Spin Toy
Our spinners is designed from highly durable plastic with bearings that revolve at top speed to achieve a much longer spin. Get the most stylish new anti-anxiety fidget spinner, relieve stress or just play around, and feel good while you're at it.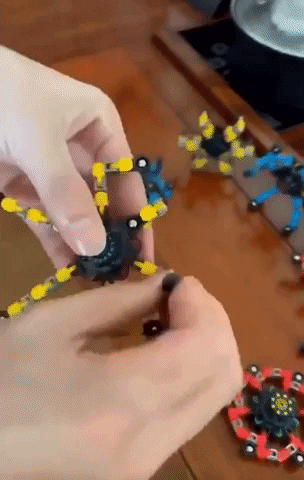 Deformable appearance
He is not only a decompression fingertip spinner but also a cool robot or other things you imagine. To use the anxiety toys on a table simply press the center to keep it stable and at the same time spin.
High Quality
Round Corner and Smooth Surface Spinners: protect-your fingers from scratching. No repair, oil, maintenance needed: Use the metal fidget spinner right out of the box. They also suffer very little slow down during tricks.
Easy to Use Fidget Toy
To spin the fidget toys simply hold with one finger on either side of the center and then with your other hand spin. With practice, the metal fidget toy can be used with one hand only.
Stress Relief Toys
With a fidget spinners metal, your boring time will pass away quickly and you will enjoy a good time when you are alone. Instead of fidgeting around with your fingernails you can simply grab the fidget spinner and play with it.